How Energy Healing Can Help You
When your energy is blocked things don't come to you easily and life can become a struggle. Maybe you feel stressed out, overwhelmed and need a break – in that case a relaxing healing session is perfect for you! Energy healing is very calming and relaxing! Many people rapidly fall asleep during a session!
During a healing session, I also remove mental, emotional and energetical energy blocks that are stopping energy flow in your life. This makes it hard for you to achieve the level of sucess and abundance that you want in your life. Once the blocks are removed you will feel lighter and things just start falling into place in your life in a way that feels natural and easy. 
Because of it's relaxing effect on the body, it lowers stress hormones, promotes the body's self-healing property and improves the immune system.
If you lead a busy life and have a hard time relaxing, having Energy Healing sessions regularly is a wonderful tool to help you relax and manage stress.
Distance Energy Healing Session
Energy Healing & Clearing
Creates deep relaxation

(some clients fall asleep instantly!) and helps the body release tension.

Reduces stress hormones

, which improves the immune system and the body's self-healing properties.

Promotes harmony and balance

of the body and mind.

Dissolves energy blocks

so that you can live with more ease and flow.

Clears the mind

and makes it easier to focus and feel centered.
Distance Healing does not require you to be physically present with the practitioner.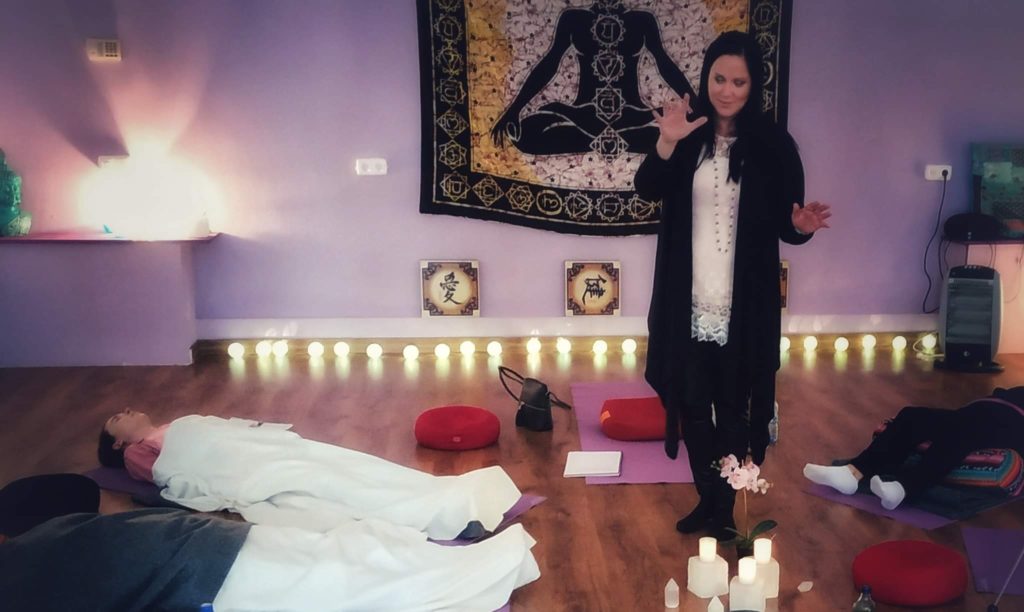 Me, doing a group healing session.
"During my healing session I felt a very strong sensation of heat in my chest. It felt like a warm beam of light. After my session, I found out that just in that moment, Elizabeth had put a loaded ball of energy inside my chest!"
" I'm going through a difficult period in my life and was feeling anxious and overwhelmed before our healing session. Afterwards I was completely calm - it felt almost as if I I had taken an anti-anxiety medication."
I will call you up at the beginning of the session. You'll receive the healing within the comfort of your own home.
Energy Healing
One 30 min session
3-Pack Energy Healing
3 x 30 min sessions
5-Pack Energy Healing
5 x 30 min sessions
Disclaimer: Reiki and energy healing are not medical treatments and as a Reiki practitioner and healer, I do not diagnose or treat physical or mental illnesses. If you have a physical or mental ailment, you should always consult your Medical Doctor.